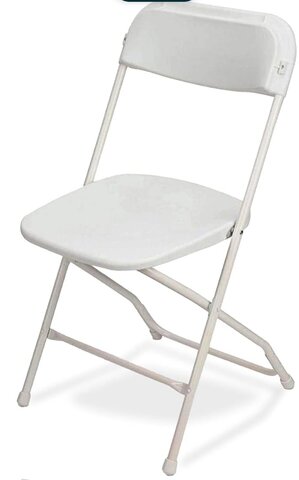 Description
Introducing our folding chair rental service, perfect for any event or occasion. Our folding chairs are the epitome of simplicity and functionality, providing comfortable seating solutions for your guests.
Crafted from durable materials, these chairs are designed to withstand regular use and ensure long-lasting performance. The lightweight and foldable design make them easy to transport and set up, saving you time and effort during event preparations.
With a sleek and timeless design, our folding chairs seamlessly blend into any setting, whether it's a wedding reception, corporate event, backyard party, or conference. They offer a versatile seating option that can be easily arranged to accommodate any space or seating arrangement needs.
The ergonomic construction of our folding chairs ensures optimal comfort, allowing your guests to relax and enjoy the event without any discomfort. The sturdy frame provides stability and support, giving you peace of mind knowing that your guests are seated securely.
Our folding chairs are not only functional but also aesthetically pleasing. The neutral color options and clean lines make them a versatile choice that can complement any event theme or décor style. You can also customize the chairs with seat cushions or chair covers to add a touch of elegance or match your event's color scheme.
At [Your Company Name], we understand the importance of delivering high-quality products and exceptional service. Our folding chair rental service ensures that you have access to reliable and well-maintained chairs, allowing you to focus on creating memorable experiences for your guests.
Renting our basic folding chairs is a cost-effective and practical solution for any event. Whether you need a few extra seats or a large quantity, we offer flexible rental packages to accommodate your specific needs and budget.
Contact us today to reserve our basic folding chairs for your upcoming event. Our team is dedicated to providing top-notch customer service and ensuring that your event seating needs are met with ease and efficiency.