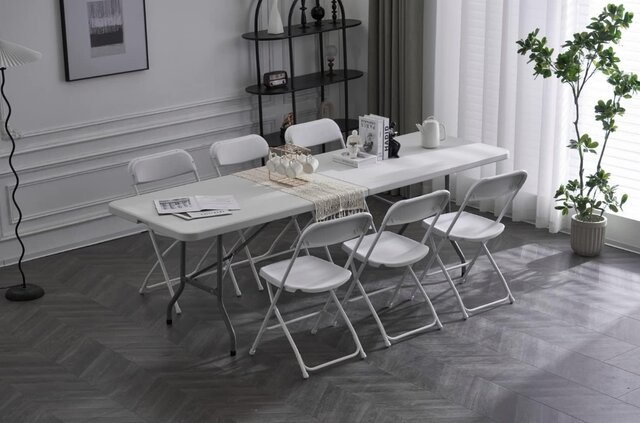 Description
Introducing our premium package of 1 table and 8 chairs rental, perfect for hosting memorable events and gatherings.
Crafted with style and functionality in mind, this package is designed to elevate any occasion. Whether you're planning a wedding reception, corporate event, or family celebration, our table and chair set will provide comfort and elegance to your guests.
The centerpiece of this package is the sturdy and spacious table, which offers ample surface area for food, drinks, and decorations. Its durable construction ensures stability, allowing your guests to enjoy their meals without any worries. The sleek design adds a touch of sophistication to any setting, making it a versatile choice for both indoor and outdoor events.
Accompanying the table are 8 comfortable chairs that are both stylish and ergonomic. Each chair is carefully crafted with high-quality materials to provide optimal comfort and support throughout the event. With their sleek design and neutral color, these chairs seamlessly blend into any decor theme, adding a touch of elegance to your space.
Renting this package not only saves you the hassle of purchasing furniture, but it also guarantees a hassle-free experience. Our team of professionals will deliver the table and chairs to your desired location, ensuring they are ready for use. After your event, we will promptly collect the items, leaving you with one less thing to worry about.
At [Your Company Name], we prioritize customer satisfaction and strive to provide the highest quality products and services. Our table and chair rental package is no exception, as we understand the importance of creating a comfortable and visually appealing atmosphere for your guests.
Don't settle for less when it comes to your event's furniture needs. Choose our 1 table and 8 chairs rental package and make a lasting impression on your guests. Contact us today to reserve your package and ensure a successful and memorable event.