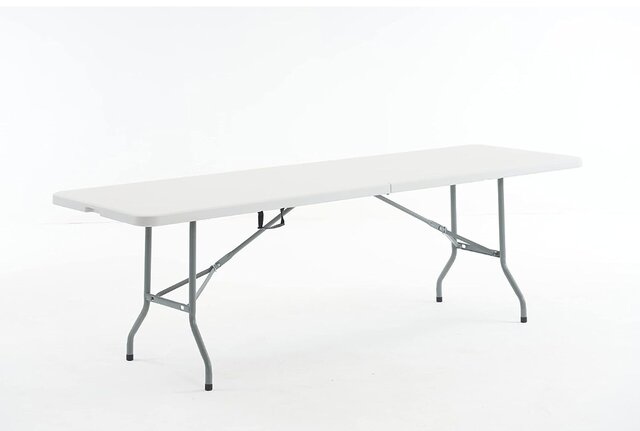 Actual Size: 8ft x by 30 inch
Description
Are you in need of a reliable and sturdy table for your next event or gathering? Look no further than our 8ft Table rental! This versatile and spacious table is perfect for any occasion, whether it's a wedding reception, a corporate conference, or a backyard barbecue.
Crafted with durability in mind, our 8ft Table is made from high-quality materials that can withstand heavy use and resist scratches and stains. Its sleek and professional design will seamlessly blend into any setting, adding a touch of elegance to your event.
With its generous size, this table can comfortably accommodate up to 10 people, providing ample space for dining, working, or displaying items. Whether you're setting up a buffet, arranging meeting materials, or showcasing products, our 8ft Table offers plenty of surface area to meet your needs.
Transporting and setting up this table is a breeze, thanks to its lightweight construction and foldable design. It can be easily folded and unfolded, allowing for convenient storage and effortless assembly. The sturdy legs provide stability and ensure that the table remains steady throughout your event.
At [Your Company Name], we prioritize customer satisfaction, which is why we regularly inspect and maintain our rental inventory to ensure that every item meets our high standards. Our friendly and knowledgeable staff will assist you in selecting the right table to suit your specific requirements.
Renting an 8ft Table from us not only saves you the hassle of purchasing and storing a table, but it also guarantees that you'll receive a top-quality product that will enhance the overall experience of your event. Contact us today to reserve your 8ft Table rental and make your event a resounding success!